Gratulerer Palestina!
Posted by Fredsvenn den november 29, 2012
Soleklar FN-seier for palestinerne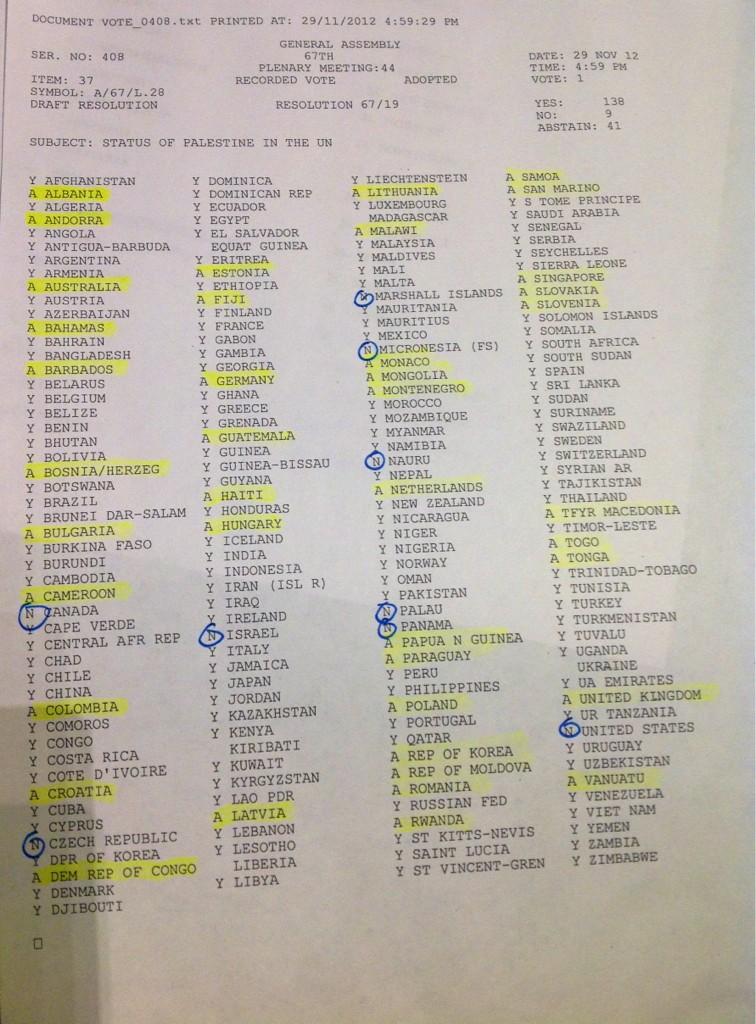 Det eneste merkverdige landet som stemte imot Palestina resolusjonen i FN var Canada. USA og Israel er jo faste allierte. Og så kommer det til øystatene, som er kjøpt og betalt, og som har støttet israelske overgrep tidligere. Så egentlig kan man si at denne avstemningen følger i rekken av flere andre avstemninger, og at det sammenfaller med de andre. Verden er rett og slett for Palestina. Og skulle man lure på hva de kristne sier om dette så les Kairos erklæringen:
KAIROS-dokumentet: "Okkupasjonen er en synd mot Gud"
Se også:
60 Minutes: "Christians of the Holy Land"

Her en kommentar fra en canadier: «Canada has been hijacked by what we call an Albertan. It is the oil sand country, and sports the mentality of say Texas. I've been trying to dump them for years. The government is beyond belief and when the opposition wanted to engage in debate about policy, they closed down the house for ten weeks and sent everyone one home on paid holiday. It really is a disaster and acutely embarassing – the guy makes George Bush jr look like an eloquent statesman.
–
Noen realiteter vedrørende Israel
Nobelprisvinner Günter Grass' dikt om Israel skaper storm